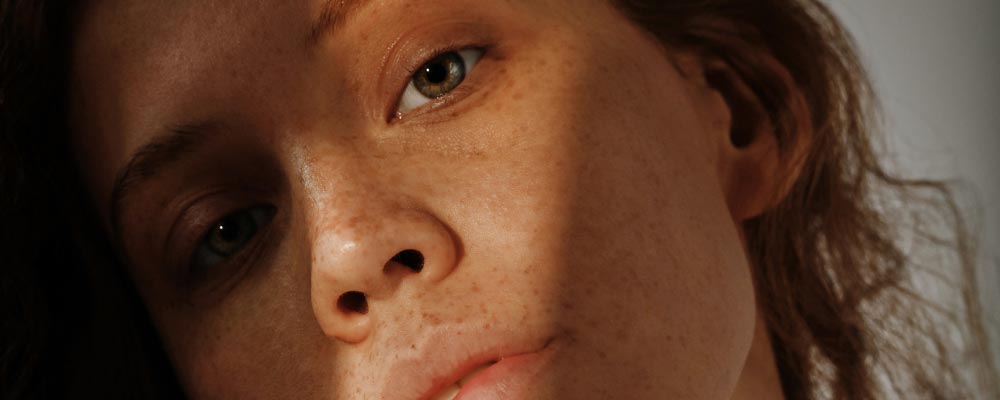 journal
/ Protect Your Skin Agai...
Protect Your Skin Against Pigmentation In The Summer
This summer, our skin is likely to become more exposed to the UV rays. Pigmentation and hyperpigmentation are closely related and refer to patches of skin that have become darker. Other factors that may lead to an overproduction of melanin include hormones. Types of pigmentation include: Sun Spots, Melasma and Post-inflammatory hyperpigmentation.
By Susie Willis
With heat waves hitting the UK, and many of us jetting off this summer, our skin is likely to become more exposed to the UV rays. More sunshine is great for our Vitamin D levels, but increased sun exposure can cause skin pigmentation, uneven skin tone, hyper sensitivity, dehydration and flare ups.
Pigmentation is a particularly common issue with sun spots, age spots and dark patches appearing overnight.
Mateja Weber, Romilly Wilde Head of NPD and Cosmetic Scientist takes us through the different types of pigmentation, and shares her five tips to avoid and treat pigmentation this summer.
Pigmentation & Hyperpigmentation
Pigmentation and hyperpigmentation are closely related and refer to patches of skin that have become darker than the surrounding areas of skin usually around the face, arms and shoulders. Other factors that may lead to an overproduction of melanin include hormones.
Hyperpigmentation is very common in all skin types, but most prominent for people with darker skin tones as they already have a higher melanin content.
Types of pigmentation include:
Sun Spots
Melasma
Post-inflammatory hyperpigmentation

Sun Spots
Sun spots also known as age spots may affect people of all skin types, however they are more common in individuals with lighter skin tones. Sun spots are flat, oval areas of increased pigmentation, usually tan, brown in colour and occur on skin caused by overactive pigment cells. UVA, IR and visible light speed up the production of melanin.
Melasma
Melasma is a common type of pigmentation that can be found primarily in individuals with light brown skin to darker skin tones, especially in areas of the skin which have had high sun exposure. Women are particularly susceptible to melasma and result in brown patches of the face especially on the forehead, cheeks and upper lip.
Several common causes of Melasma include:
Sun exposure. Frequent exposure to UV rays. - When the skin is exposed to the sun, its natural response is to produce more melanin, to protect the body from the harmful effect of ultraviolet rays from the sun.
Skin color. Melasma occurs most commonly in people with light brown skin tones, particularly if they live in areas with high levels of sun exposure.
Female. Melasma affects females more than it does males.
Pregnancy. Melasma is more common during pregnancy,
Birth Control.
Genetics. Freckles - High number of people with melasma report that close relatives also have the condition.

Post Inflammatory Hyperpigmentation
Post-inflammatory hyperpigmentation can occur after skin inflammation resulting from an injury, cuts, burns, acne, blemishes and stress. It can occur anywhere on the body, but sun exposure can make it more pronounced.
5 Tips To Prevent & Treat Pigmentation This Summer
1. PREVENT - ALWAYS WEAR AN SPF AND A LARGE HAT
Prevention is definitely the best approach. I recommend to always wear an SPF 30+, UVA with IR and Visible light protection, plus a hat with a really wide brim. I'd recommend Madara SPF50 Plant Stem Cell Ultra-Shield Sunscreen.
2. PREVENT - LOOK FOR AN ANTI-STRESS/ANTI-INFLAMMATORY SERUM
We wear our stress on our skin, stress itself affects pigmentation through an inflammation response. When the body's stress response is triggered, it induces the melanocytes to produce more pigment. Look for a serum with strong Anti-stress and Anti-inflammatory properties. I use Romilly Wilde Advanced Supercell Serum with Wakame Bioferment which helps to detoxify the skin by targeting internal pollution, stimulates skin's defense mechanism and offers powerful anti-oxidant protection, plus Ectoin which actively offers UVA, IR and Visible light protection, while de-stressing the skin. Then there is DermalRx Lushield: Osmanthus Fragrans Flower Extract which is rich in polyphenols and flavonoids to provide strong anti-oxidant activity while helping to inhibit inflammatory effects caused by environmental stress.
3. TREAT - BIO-RETINOL
Retinols and retinoid alternatives can work to resurface the skin and reduce pigmentation. But using before sun exposure can be dangerous and cause skin to become sensitive. The key is to move to a Night Cream with a retinol. Look for one with a more gentle alternative, such as bio-retinol which will have the same beneficial effects of a traditional retinol without sensitising the skin. Romilly Wilde Night Duty has Revinage WPO a bio-retinol, an extract of Picao Preto, a plant based alternative to retinoids which gently resurfaces the skin, and visibly reduces the appearance of all forms of pigmentation. Our Head of Marketing had two prominent sun spots on her forehead, she has seen amazing results with Night Duty, which has significantly reduced her pigmentation after just two weeks.

4. TREAT - TAKE YOUR VITAMINS
Vitamins play a key role in skincare to help repair and protect. Look for products with Vitamin C, E and P which offer free radical protection. The Romilly Wilde Eye Believe Eye Serum has powerful Proanthocyanidins that are twenty times more powerful than Vitamin C and fifty times more powerful than Vitamin E according to Pubmed.gov. It also has actives that enhance hydration and circulation, while helping to minimize pigmentation and discolouration. Eye cream doesn't have to be just for the eyes, and it works wonders to treat any areas of pigmentation.
5. TREAT - FEED YOUR SKIN
If larger areas of pigmentation do appear treat them with actives that encourage cell protection and regeneration. The Romilly Wilde Active Boost Face Oil has Snow Lotus, a plant cell that oxygenates the skin, helping to increase cell regeneration and slow down oxidation, which helps to reduce the appearance of age spots while reducing oxidative stress. Tego Turmerone offers significant anti-oxidant activity, extracted from the root of Curcuma Longa, this extract improves skin radiance and the appearance of even skin tone.
Skincare To Prevent And Treat