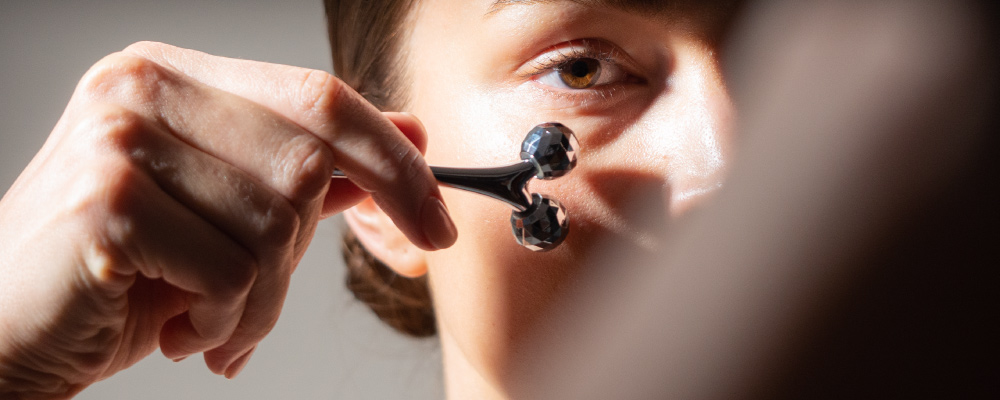 journal
/ At Home Facial Techniq...
At Home Facial Techniques With Lymphatic Drainage Massage
We explain lymphatic drainage massage, how it enhances the body's natural draining processes and bring you the easy at home facial massage steps to get your skin looking radiant and sculpted with our Sculpting Facial Roller.
By Susie Willis
AT HOME FACIAL TECHNIQUES
After a busy summer full of indulgence, there's nothing better than to treat your skin to a facial lymphatic drainage massage from the comfort of your home. We bring you six easy steps to get your skin looking radiant and sculpted.
ADVANTAGES OF FACIAL LYMPHATIC DRAINAGE
By now, we've probably all heard about Lymphatic Drainage massages, but what exactly is a lymphatic drainage massage?
Lymphatic drainage is a type of massage that enhances the body's natural draining processes by following the lymphatic system's flow. When your lymphatic system isn't functioning properly, the waste and toxins accumulate in your body, which is bad news for the health of your skin, because it leads to puffiness and dull skin due to lack of block flow. This is where the Sculpting Facial Roller comes in!
WHAT IS THE SCULPTING FACIAL ROLLER?
The sculpting facial roller is a weighted sculpting facial tool, with petite multi-angled rollers. The cross-contour movement powerfully massages the muscles around the face for a lifted, toned and energised feeling. The dimples on each ball are designed to intelligently work around every contour, including the delicate eye area to reduce puffiness and dark circles. The roller can be stored in the fridge to add a cooling effect to reduce further puffiness.
We recommend pairing it with the Active Boost Face Oil, an intensely restorative facial oil that enables our roller to glide over the skin without any tugging. If you want to try it out, in September you get a FREE travel size Active Boost Face Oil when buying two sculpting facial rollers.
HOW TO USE THE SCULPTING FACIAL ROLLER FOR AN AT-HOME FACIAL:
Firstly, cleanse the skin and apply Active Boost Face Oil to the face.
Start at the jaw area and pull the roller with pressure across the jaw bone from chin to back of jaw. Ensure each roller ball is either side of the jaw bone.
Draw over the cheekbone then up to the ear.
Gently roll over the under eye area out towards the upper ear.
Glide over the eyebrow ridge to your temple.
Repeat on both sides of the face.
You can watch our founder, Susie's masterclass video here.