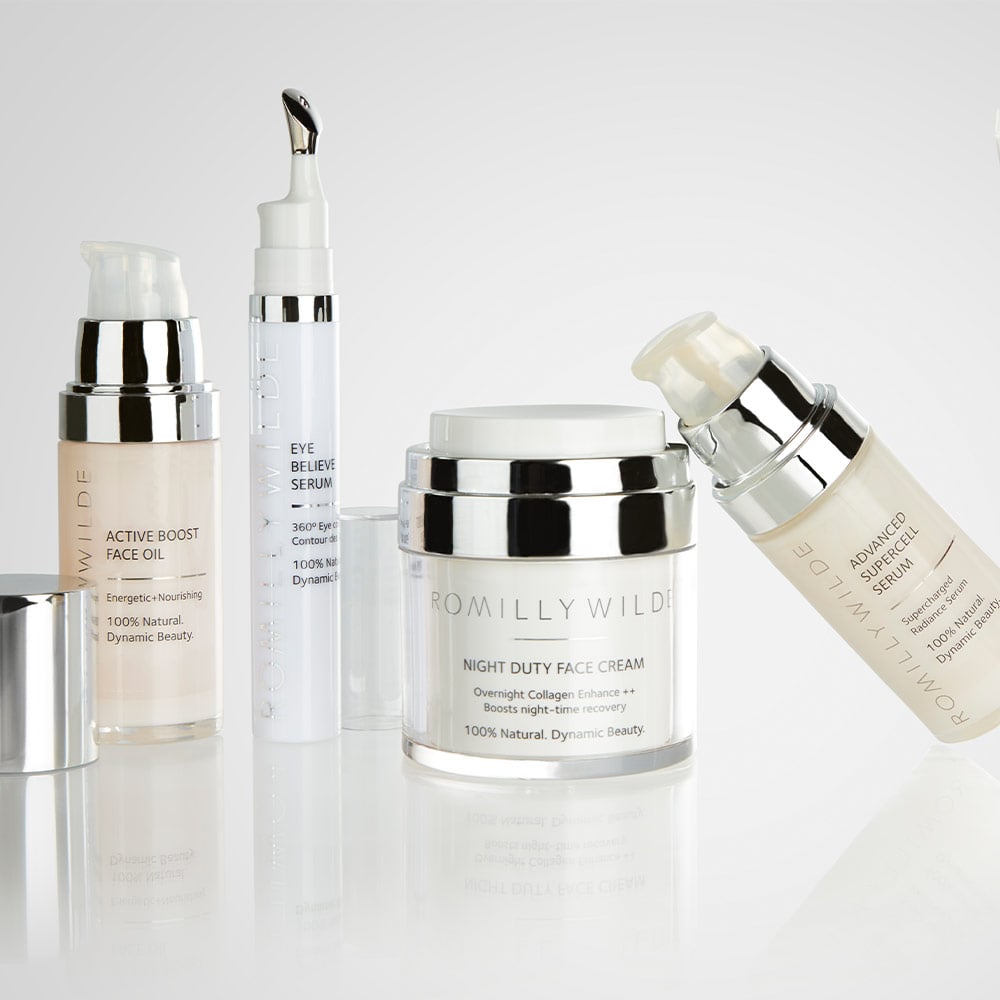 Terms and Conditions
If you are a new Romilly Wilde customer, hello and thank you for visiting our online showcase site. You don't need to register your details and can check out as a guest. If you register with us, you will receive any promotions or offers via email. It won't take long to register your details and you can opt for your personal details to be securely saved.
In order to operate efficiently, we need to have terms and conditions surrounding the content and usage of this Website and the terms and conditions on which we supply products to you. Please read these terms carefully as by using our Website, you are acknowledging that you have read, understood and agreed to be bound by these terms and conditions, which include our privacy policy.
The following terms and conditions apply to all transactions on www.romillywilde.com (the "Website") including telephone sales and the use of the Website itself. These terms and conditions will be governed by the laws of England and Wales and by using the Website you agree to submit to the exclusive jurisdiction of the courts of England and Wales.
Romilly Wilde is the trading name of Wilde Beauty Limited, Company No: 7543855 with registered office at Alexandra House, St. Johns Street, Salisbury, UK SP1 2SB and VAT Registration No. 236251523.
If you need to contact us, all correspondence, except sales and orders and customer services, should be made via the Website or by email to: office@romillywilde.com.
If we need to contact you we will do so by email, telephone or by writing to your postal address. We will only contact you in accordance with our Privacy Policy.
In these terms and conditions the terms "we", and "us", and "our", refer to Romilly Wilde and "you" and "your" refer to any visitor to the Website or any Romilly Wilde customer.
"Goods" are those items, which are displayed for sale on the Website.
ORDERS
Our acceptance of your order will take place when [payment is made via our online payment process].
We will assign an order number to your order and tell you what it is when we accept your order. It will help us if you can tell us the order number whenever you contact us about your order.
DELIVERY
Our delivery policy and shipping terms which are incorporated into these terms and conditions are detailed on the Website and can be found by clicking here.
If our supply of the products is delayed by an event outside out control then we will contact you within 24 hours of the event occurring to let you know of the delay. Provided we do this, we will not be liable for delays caused by the event.
PRICES
All prices are shown on the Website in GBP sterling, inclusive of UK VAT. All payments may be made by any of the credit, debit or charge cards listed on the Website and detailed below under Payment Details and Security. As the buyer, you will be liable for any exchange rate charges made by your card issuer. All prices are as stated on the Website, but Romilly Wilde reserves the right to adjust prices without prior notice.
PAYMENT DETAILS AND SECURITY
All payments to Romilly Wilde are handled securely. Payment will be debited from your card immediately on placing the order for the Goods you have purchased. Upon processing a transaction we will issue you with an electronic transaction receipt which will be sent to the email address you provide. Payment can be made by any of the following methods: Visa, Mastercard, Delta, Electron, Solo, Switch, Maestro, American Express and PayPal. Please note that all credit/debit cardholders are subject to validation checks and authorisation by the issuer of the card. If the issuer of your payment card refuses to pay or does not for any reason authorise payment to Romilly Wilde, we will not be liable for any delay or non-delivery of Goods. Please note that we retain the legal title to all Goods until full payment has been made by you and received by us. Legal title to the Goods will immediately transfer back to us if we refund any payment for the Goods to you.
CANCELLATION RIGHTS
Under the Consumer Contracts (Information, Cancellation and Additional Charges) Regulations 2013 you have the legal right to cancel your order within fourteen working days from the date of receipt of the goods if you send us a notice of cancellation in writing and return the goods to us in their original, opened and unused condition. It is easy to detect whether any product has been dispensed from the pumps, and we retain the right not to issue any refund in these circumstances unless the Goods are shown to be faulty. For further details of how to return Goods please see Shipping & Returns. You can submit your cancellation notice by email to us at customerservices@romillywilde.com. Your statutory rights are not affected.
COMPLAINTS OR QUERIES
Should you ever have the need to make a complaint or have a query, we will endeavour to respond within a 24 hour period. Please contact our Customer Services Team customerservices@romillywilde.com. If you want to make a return please go to returns on the navigation bar at the bottom of the web page.
LIMITATION OF LIABILITY
We are not liable for business losses. We only supply the products for domestic and private use. If you use the products for any commercial, business or re-sale purpose we will have no liability to you for any loss of profit, loss of business, business interruption, or loss of business opportunity.
Romilly Wilde does not exclude or limit its liability where it would be unlawful to do so. This includes liability for death or personal injury caused by our negligence or the negligence of our employees or liability for fraud or fraudulent misrepresentation.
Subject to the preceding paragraph, our liability under these terms and conditions shall be limited to replacement of a faulty product or a full refund. Romilly Wilde shall have no liability whatsoever for any indirect consequential losses howsoever caused.
INDEMNITY
By agreeing to these Terms & Conditions, you agree to indemnify and hold harmless Romilly Wilde, its directors, officers and employees from any, and all, third party claims, liability, damages and/or costs (including, but not limited to, legal fees) arising from, without limitation, your wrongful use of the www.romillywilde.com service, your breach of these terms and conditions , your infringement of any intellectual property right or any other right of any person or entity, or your breach of any duty of confidence or privacy, or any defamatory statements made by you in any form.
INTELLECTUAL PROPERTY RIGHTS
The rights in the designs and the content of this Website are owned by Romilly Wilde (Wilde Beauty Limited). Copyright and other intellectual property rights protect them. You may not copy, reproduce, modify, distribute or display any part of this site without our prior written consent. Romilly Wilde (Wilde Beauty Limited) is the owner of all trademarks in "Romilly Wilde", and "Romilly Wilde Beauty" and "Romilly Wilde Skincare" and "Romilly Wilde Perfume". All trademarks, product names, company names or logos featured on the website and any associated published media (unless otherwise stated), are the property of Romilly Wilde (Wilde Beauty Limited).
BESPOKE SAMPLING
Romilly Wilde provides bespoke sampling services that are for limited periods only, as prescribed by Wilde Beauty Limited. Any offers to provide bespoke sampling are strictly only available while stocks last and do not constitute a contractual offer by us. We reserve the right to withdraw any such sampling services at any time and without notice.
OFFERS & PROMOTIONS
From time to time we will run promotional offers ("Offers") which will be available via our Website. Offers are only available online and do not apply to gift cards, delivery charges or any applicable taxes. Any promotional codes in respect of Offers must be applied to your basket when an order is placed as discounts cannot be applied retrospectively. Romilly Wilde reserves the right to withdraw Offers at any time and without notice.
CRUELTY FREE & LEAPING BUNNY APPROVAL
Romilly Wilde believes that beauty and household products should be cruelty free. We are proud to be Leaping Bunny approved. A global programme, Leaping Bunny requires cruelty free standards over and above legal requirements. All of our own brand cosmetic and personal care products are approved under the Cruelty Free International Leaping Bunny programme, the internationally recognisable gold standard for cruelty free products. We adhere to a fixed cut-off date policy and proactively monitor our suppliers to ensure that our products continue to adhere to the Leaping Bunny criteria. Our supplier monitoring system is also independently audited. For more information about Cruelty Free International, Leaping Bunny and Leaping Bunny criteria, please visit www.crueltyfreeinternational.org
IDLE PROMOTION AUGUST 2021
This promotion has now ended.
Spend over £58 in a single purchase and receive a complimentary bottle of our 15ml travel size IDLE Eau de Parfum. Simply add your products to cart and make sure to also add our 15ml IDLE to cart, it will appear as free. Promotion valid Sunday 15th August 2021 at 12:00 AM to Sunday 22nd August 2021 at 11:59 PM.
This promotion cannot be used in combination with the 20% discount for new newsletter signups.