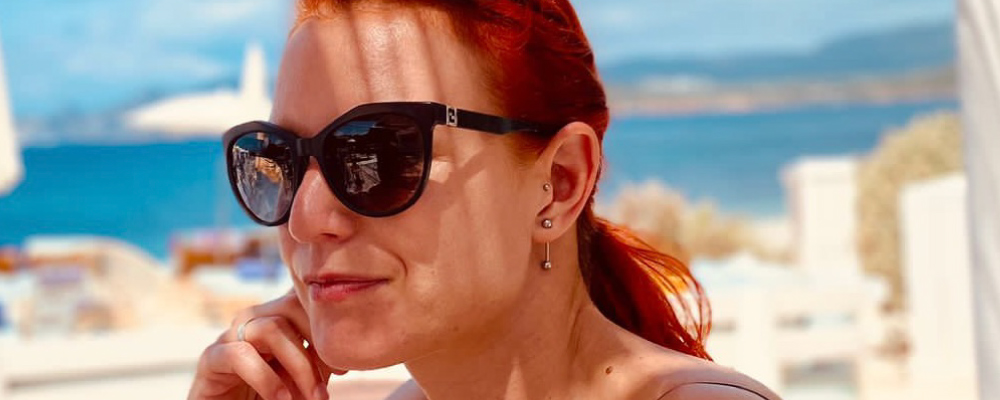 journal
/ What Is In Our Lead Sc...
What Is In Our Lead Scientist's Travel Bag
We sat down with our Lead Scientist to find out what's in her travel bag this summer. Discover the top must-have skincare essentials, including lightweight cleansers, a sun-safe anti-ageing system with SPF 50 and some K-Beauty recommendations from the expert.
By Susie Willis
1. What's your top must-have skincare essential that you always carry in your travel bag during the summer?
The first thing I always need in my travel bag are three cleansers. I just can't travel lightly in the skincare department, particularly in the summer when I know I need to remove every trace of SPF and makeup after long days in the sun.
AM cleanse
I love a lightweight gel foaming cleanser – just something quick and easy for the morning.
PM cleanse
I always go for a bi-phase eye makeup remover first – I enjoy experimenting with a similar type of product from different brands and I find the bi-phase technology works really well to gently remove waterproof mascara before my second cleanse.
Next I go in with my Light + Energy Serum Cleanser which is our super nourishing formula. I leave it on for a few minutes as a mask to get some extra nourishment and soothing effect after a day in the sun and then massage it into my complexion to help stimulate the skin before rinsing it off with a muslin cloth for some light exfoliation.
2. Are there any specific skincare products you recommend for maintaining healthy skin while travelling in hot and sunny destinations?
A sun safe anti-ageing system that consists of a peptide serum, hydrating toner, eye cream, SPF and a good night cream with an extremely gentle retinol alternative.
When it comes to anti-ageing, peptides are my go to ingredients for results so my must-have peptide serum is the Medik8 Liquid Peptides.
Working in product development, I can't resist trying something new! I have never looked back since incorporating a hydrating toner into my skincare-routine. I want my skincare to work hard for me and hydrating toners pre-serum do the trick! They act as a great delivery system for the product you apply after while amplifying hydration and plumpness.
Eyes are an area I really try to take care of, they also show evidence of a well-kept skincare routine. I use Romilly Wilde's Eye Believe Eye Serum as a targeted application around my whole eye area, above and between my brows and nasolabial folds to enhance hydration and rejuvenation.
SPF is another category I love to explore – anything Japanese or Korean with a minimum of SPF 50. They have brilliantly innovative sunscreen products which stand out from the crowd. They are known to be super light textures, don't clog pores, dry down quickly and most importantly, don't feel like a typical sunscreen at all.

Night Duty Face Cream is an absolute must in the sun as it uses a sun safe retinol alternative. I've used vitamin A or derivatives of vitamin A for many years, it's a staple ingredient in my night-time routine but since I began regular microneedling treatments I moved to a more gentle alternative which still holds the same efficacious results as retinoids. The Romilly Wilde Night Duty Face Cream uses a Bio-Retinol which is the perfect switch and much safer for sensitive skin during sunny summer months.
3. How do you protect your skin from sun damage while still enjoying the summer sun? Any favourite sunscreen recommendations?
It sounds obvious but a hat and some big sunglasses are a great place to start! I also love to include a protecting serum – ideally one that is packed with antioxidants and environmental/climate protection actives such as Survival 0 (S0) by Niod or Romilly Wilde Advanced Supercell Serum.
And always SPF 50! But always make sure you're applying enough – you'd be surprised how many people go wrong here. Naturium Dew-Glow Moisturizer SPF 50 has genius packaging which contains a ¼ teaspoon dip in the cap to guide consumers of required application amount.
4. Where are you most excited to travel to this summer?
Portugal – Porto. I'm looking forward to visiting a new place, I love experiencing new cultures and food!
5. When it comes to makeup, what are your go-to products that are perfect for a summer holiday?
I never leave the house without waterproof mascara. Summer holiday or not, I want to avoid panda eyes at all cost! My most loved mascara that I have used for a good 15+ years is DIOR Diorshow Waterproof Mascara.
An ultra-creamy moisturising lipstick or tinted lip balm. The soft, buttery/ balmy texture is great for multifunctional use across lips, cheeks and eyes so is a super easy product to throw in my beach bag.

Lastly, I don't feel myself unless my eyebrows are taken care of so I always bring my trusty Refy brow tint + brow pencil.
6. Can you share any tips for maintaining hydrated skin during flights and long travels in the summer?
I'll do as much as I can to maintain hydration and avoid the dryness that comes from aeroplane aircon! My hack for perfect post-flight skin are sheet masks. They are an absolute must-have for protecting your face from dehydration and irritation.
Surprisingly I don't do any skin maintenance in-flight other than using a couple of drops of Romilly Wilde's Active Boost Face Oil on my cuticles, however once I'm at my destination I'll cleanse and apply another – you've guessed it – sheet mask.
7. Are there any specific beauty tools or accessories that you always bring with you while travelling in the summer?
I wouldn't bring any tools with me when travelling, but I do pre-plan treatments a month before I travel, such as microneedling, mesotherapy and my builder gel manicures.
And of course, I pack a stack of sheet masks with anti-inflammatory and soothing benefits for post-sun relief.
8. What are your favourite fragrance choices for summer?
There are so many beautiful fragrances on the market but I truly love independent, niche fragrance brands and have fun with trying different ones. I find these to be so much more sophisticated and unique.

9. Do you have any overall travel and beauty tips that you've learned from your own experiences as a cosmetic scientist?
I will never ever rely on the SPF found in your foundation or your moisturiser to get the protection needed in the sun.
When it comes to SPF products, general advice is to use a ¼ teaspoon amount of product. This quantity is calculated from an estimate of people's face sizes, and the amount of sunscreen they use in SPF testing (2mg per cm2). Since it's based on the thickness of sunscreen, a larger face will need more sunscreen, while a smaller face will need less product to get the declared labelled SPF. As people have different faces, when in doubt go with quite a full ¼ teaspoon amount of product for face and another full ¼ teaspoon amount for ears and neck.
A full ¼ teaspoon amount is quite a lot of product especially when it comes to foundations and heavier moisturisers, this amount doesn't feel comfortable on the skin. I always opt for a super light-weight gel texture to be able to comfortably wear the required amount to achieve the declared labelled protection.